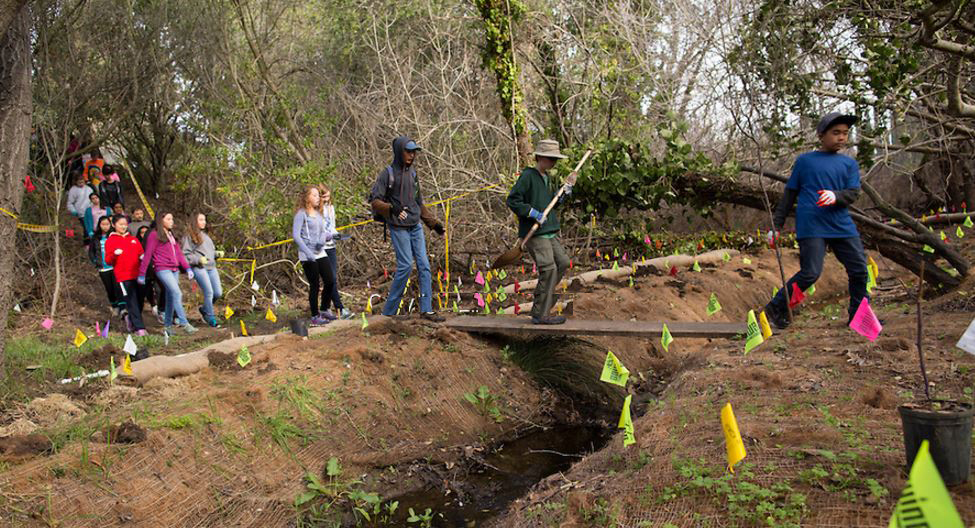 PROJECT INFO:
OWNER:
The Town of Los Altos Hills
PROJECT CONTRACTOR:
Ecological Concerns Incorporated
ENVIRONMENTAL PLANNER & LANDSCAPE ARCHITECT:
Ecological Concerns Incorporated
PROJECT GOALS:
Improve Native Plant Diversity; Protect Channel from Erosion; Provide Public Outreach and Education; Removal of Invasive Species
PROJECT DESCRIPTION:
The Town of Los Altos Hills was awarded a large grant for the restoration of and educational outreach about the town's O'Keefe Open Space Preserve. The funds came from the Santa Clara Valley Water District's Environmental Enhancement Implementation Grant Program and were used to restore the native riparian habitat of Purisima Creek while teaching students the value of habitat quality along this wildlife corridor. This is the second grant to be awarded to the Town of Los Altos Hills for environmental enhancement of their open spaces with help from Ecological Concerns. Two and half years ago, the funds were directed to Edith Park along Adobe Creek. The restoration at O'Keefe Open Space Preserve was similar to that done at Edith Park. Both creeks had become choked by invasive species, compromising the area's biodiversity. Most of the grant funded the removal of invasive plants and subsequent revegetation efforts along Purisima creek. This project did not face many problems becuase of the in-house collaboration. ECI is a full service design, grow, build company that can offer a higher level of customer service and quality control. That quality control comes from having one ecological landscaping firm with an in house collaboration between landscape designers, botanists, wildlife biologists and restoration professionals. ECI supports each other as a team and making sure all goals are met.