Bill Halleck Jumps into the Private Sector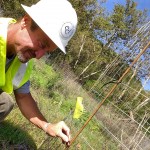 Join us in welcoming Senior Designer/Project Manager and erosion control specialist Bill Halleck, CPESC (Certified Professional in Erosion and Sediment Control). Bill will collaborate with ECI's team of botanists, ecologists, biologists, landscape architects, nursery professionals and construction crews as we continue to develop a network of landscapes providing habitat, food, and environmental benefits that increase the sustainability of the built environment.
Bill joins the ECI team with 30 years of experience in landscape architecture, land conservation and greenway planning, environmental impact reporting, habitat restoration, construction management, environmental resource permitting, and erosion control. Fifteen of those years were spent as a landscape architect for the City of San Jose. In addition he offers our clients expertise in project management on multidisciplinary jobs that have included creek trails, public park and open space planning, riparian and wetland revegetation, residential, commercial and municipal developments, as well as stormwater management.