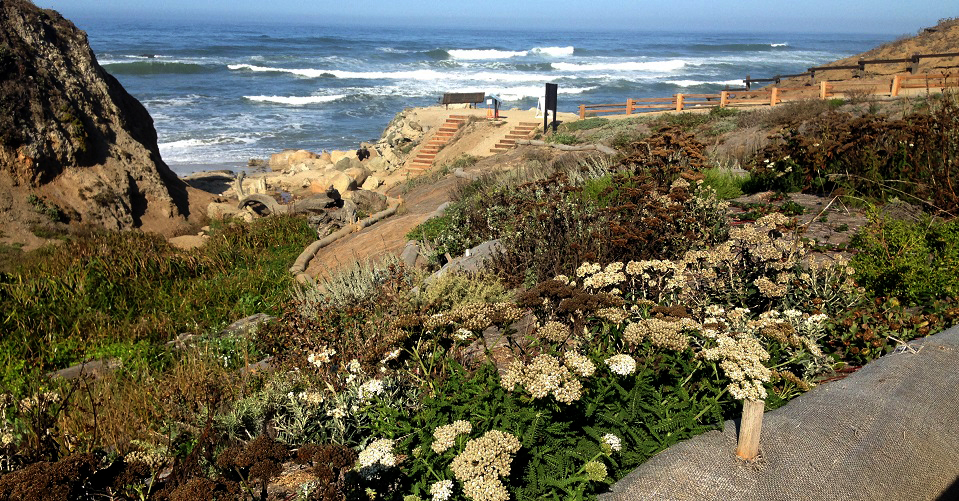 PROJECT INFO:
OWNER:
San Mateo County Parks
PROJECT CONTRACTOR:
Ecological Concerns Incorporated
ENVIRONMENTAL PLANNER & LANDSCAPE ARCHITECT:
Ecological Concerns Incorporated
PROJECT GOALS:
Creek Restoration; Erosion Control; Habitat Restoration; Invasive Control; Invasive Weed Management; native plant inventory
PROJECT DESCRIPTION:
Ecological Concerns Incorporated (ECI) worked with the County of San Mateo Parks Department to evaluate and catalogue the vegetation along the San Vicente Creek. The planning team identified opportunities for eradicating and managing non-native plants in order to facilitate native plant growth. Restoration of the creek began in winter 2014; although completed in 2015, maintenance will continue for several years as ECI, County Parks staff and volunteers tackle the widespread invasive species choking the creek and limiting the potential of the habitat.
Success is ensured by using an integrated approach to removing cape ivy, Pittosporum, ice plant and other invasives from the coastal scrub habitat just above the mouth of the creek. Manual removal—ECI crews manually removed over 49,000 pounds of invasive vegetation from the creek—was combined with targeted herbicide applications. After the soil in the cleared areas was secured with erosion control blankets, ECI planted over 700 foredune and coastal scrub plants such as Eriogonum latifolium, Eriophyllum staechadifolium, Baccharis pilularis, Fragaria chiloensis, Elymus triticoides and other natives. Volunteers have been indispensable to the restoration process by assisting with planting.  because this restoration was considered a successful pilot project, the Parks Department is seeking grant funding to replicate this type of restoration effort elsewhere in San Mateo County.