Rainwater and Greywater Systems
The Rainwater & Greywater team at ECI has over 20 years of experience designing custom alternative water systems. Whether it is for a residential or large scale commercial sites, we are experts at utilizing on site water resources (rainwater & greywater) to create the most efficient systems possible. We offer detailed permit level plans and work with our clients throughout the whole process.
OUR PROCESS:
Site Consultation
Conceptual plan
Construction Documents
Permit process
Installation & Construction Oversight
Click Here to Download Our Rainwater & Greywater Portfolio 
DEL MONTE DEVELOPMENT PROJECT RAINWATER & GREYWATER CATCHMENT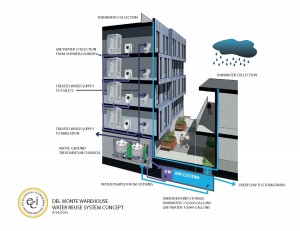 PROJECT DESCRIPTION:
The Del Monte Development Project is a 230,000 square foot warehouse that will be reborn into one of the largest mixed-use development projects in the East Bay. This large scale interdisciplinary project involved collaboration between ECI and the development team which included architects, structural engineers and civil engineers. Tim Lewis Communities hired ECI to mitigate storm water runoff and creatively utilize rainwater to use for non-potable use, such as flushing toilets and a display fountain. Greywater from both the residential and commercial spaces with be used for irrigation.
PROJECT GOALS:
Utilize 1.5 million gallons/year of collected rainwater to use for non-potable –
domestic use (i.e. flushing toilets, laundry washing)
Utilize 500,000 gallons/year of collected rainwater for miscellaneous purposes (i.e washing sidewalks, car, fountains, etc.)
Utilize 400,000 gallons/year of greywater to irrigate 1 acre of landscape
Total Municipal Water Savings: 2.4 million gallons/year
Mitigate stormwater runoff
Achieve Gold LEED Status
ECI PROJECT SERVICES:
Rainwater Harvesting System Design
Greywater System Design
Stormwater Management
DEVELOPER:
Tim Lewis Communities
ARCHITECT:
BAR Architects San Francisco