DredgeFest California Workshop & Landscape Tours 2016
DredgeFest California Workshop & Landscape Tours
Explore the present and near future of sedimentary infrastructure in the Bay-Delta.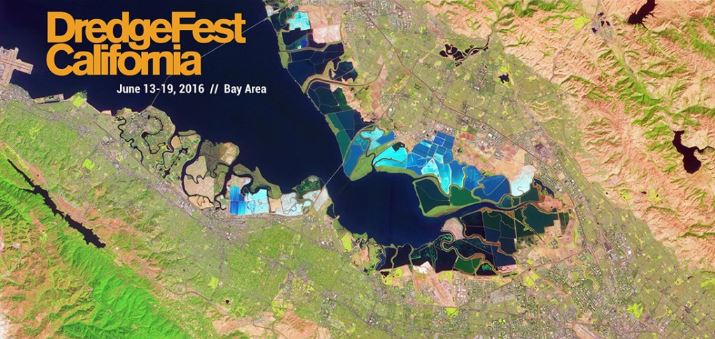 DredgeFest California
Workshop June 13-17
Public Tour June 18 & 19
DredgeFest California combines an intensive design workshop, held at U.C. Berkeley, with two tours open to students and the public.
Our focus is the sedimentary challenges and potentials of the Bay-Delta system of San Francisco. Here, sediment-linked phenomena such as pulses, droughts, dredging, diking and reclamation all intermingle. It's a menagerie of sedimentary events in a region bound to sediment-management practices like no other, that is now facing serious challenges born of climate change and sea level rise.
In an effort to communicate the scale of operation in these massive landscapes, two day-long tours will be held. One tour will focus on the San Francisco Bay itself and the dredging and reclamation that occurs there, while the other will address the levee-linked landscape of the Delta. These tours are open to the public and welcome to curious participants of all levels and will give an opportunity to experience these unique places first-hand.
Advanced students and regional experts are also invited to apply to participate in the workshops. Over five days, designers, local stakeholders, and experts (from academia, industry, and government) will come together to envision and respond to future sedimentary scenarios for the Bay-Delta. Workshop details and application instructions can be found at http://dredgeresearchcollaborative.org/dredgefest/workshops/
For more information, visit http://dredgeresearchcollaborative.org/dredgefest/ 
Organized by the Dredge Research Collaborative, DredgeFest California completes the Four Coasts project.