The Sustainable Sites Initiative™ (SITES™) Recognizes Two Bay Area Landscapes
The Sustainable Sites Initiative™ (SITES™) program recognizes two Bay Area landscapes as leaders of the built environment, meeting rigorous standards of environmental design and performance. They will join a list of over 34 landscapes that meet these standards and stand as examples of how development and urban growth can contribute to the local ecology and engage the community. Two of the new landscapes are local to the Bay Area with one in the Tenderloin in San Francisco and the other in San Jose.
 
Former concrete parking lot now shared garden space used for educational purposes.
It is used to teach schools how to build a sustainable garden education program, as well as healthy land-use practices. Examples: vertical food towers, pallet gardens, composting, and gardening with perennial food plants.
Currently, volunteers from ELSEE work with elementary students one or two days a week as part of their science curriculum.
The tenants include Middlebrook Gardens, a design/build sustainable landscaping company, The California Native Garden Foundation, The CNGF Nursery and Propagation Center, and Freshness Farms, a local Community Supported Agriculture (CSA) that operates the onsite Aquaponics farm.
ELSEE's goal is to have 10,000 schools on board with this garden model by 2020.
Boeddeker Park, Two Stars, The Trust for Public Land, San Francisco, California.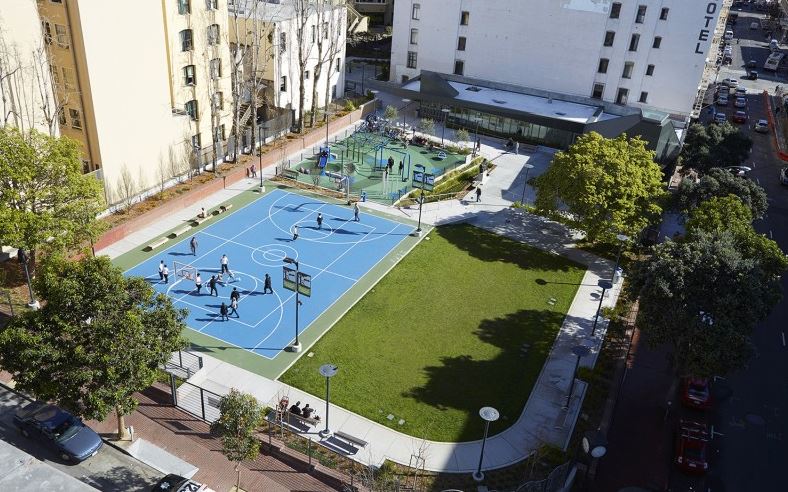 Largest open space in the Tenderloin.
Before renovation, park was unsafe but now the 1-acre community-driven design is a open and safe place for the 50,000 people that live nearby.
The urban park includes a basketball court, clubhouse, adult fitness equipment, children's play area, lawn for community gatherings, and a garden.