Extending Moore Creek Preserve into a Westside Front Yard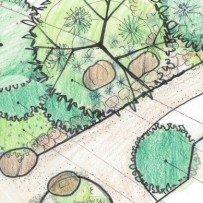 This residential client, with a home overlooking beautiful Moore Creek Preserve in Santa Cruz, requested ECI's help to transform their small front lawn and patio into a more ecological landscape.  The client's goals were to remove the lawn, reduce the footprint of the hardscape patio, create more space for gardening, and to use native plants to extend the natural beauty and habitat of the Preserve into their own yard.
ECI's landscape designer, Dakotah Bertsch, worked with the client to develop a plan to incorporate their goals into a cohesive vision for the landscape, working in additional ecological features such as a rain garden to harvest storm water, permeable decomposed granite paths, and a rain water harvesting tank for water storage. Grade changes for the rain garden were achieved using boulders and dry-stacked stone retaining walls, and all soil was kept onsite in order to minimize waste and enhance the sustainability of the project.  The lawn and excavated soil from the rain garden were recycled in place to create planting mounds for a palette of carefully selected native plants.  Much of the nursery stock used was grown at Central Coast Wilds, ECI's nursery division, with seeds and cuttings collected from local watersheds.
The installation took a couple of weeks to complete, and included demolition of their older landscape, light grading for the rain garden, construction of the paths, and planting. The landscape was polished off with wood chip mulch to help retain moisture and build soil. Since installation, the plants have started to grow in wonderfully, and we have seen butterflies and other insects enjoying the new habitat.  The client has been very involved in gardening and maintenance, and has even opted to get their landscape rated as a Monterey Bay Friendly Landscape – certifying that their landscape is ecologically beneficial, and qualifying them for numerous local discounts.  We are excited to see this project continue to serve our client and the community at large!